The main objective of the current world economy is to promote a free, competitive and trade-free economy in terms of both merchandise, capital and its citizens, and in this context OnBiz comes up with the most practical and economic solutions for the creation and development of small and medium-sized enterprises without high costs at the level of administrative and space costs.
Our centres are located in the central location of Vila Nova de Gaia, more precisely in Saint Ovídeo with easy access to the Underground and circulation routes of the great metropolitan area of Porto. This environment counts on discretion and prestigious professionalism and our spaces are fully equipped to help you save time and money. Our goal is to let you free to focus on your core business. We have at your disposal offices furnished with state-of-the-art technology, reception with personalized telephone service, secretarial and legal services, free wireless internet.
OnBiz is also a partner and representative in Porto, Portugal of the eOffice International Network, the largest network of Business Centers in the World, with more than 300 centers and managed from United Kingdom. Our clients can easily access this Network: our center's secretariat will give all the support to identify an Office or a Virtual Office that responds to their needs in countries of Europe, America and Asia and allows them to internationalize safely. It is also an excellent option for companies that intend to use meeting or work rooms temporarily, for timely development of projects.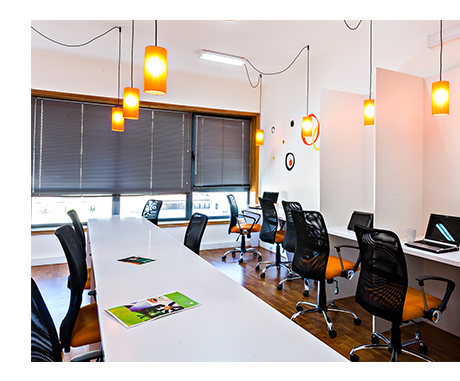 What we do?
OnBiz specializes in providing its customers with administrative cost optimization, providing quality personalized services at affordable prices and adjusted according to the needs of each client or sector.
OnGoingUp namely Virtual Offices, CoWorking Spaces, Meeting Rooms and Training, Hot Desking and Networking Events, for companies that want to dedicate 100% to their core business by optimizing their costs.
With excellent access to public transports our meeting rooms and conference rooms can be rented for an hour, a half day or an entire day. We can help you organize a light lunch catering to be delivered during the meeting.
Optionally you can also enjoy a wide range of services with guaranteed security, reliability and professionalism, allowing you to meet in one place with several suppliers in the areas of accounting / finance, communication / image, legal, webdesign and press, especially useful for start-ups, OnStartUp.
We are a company with a professional, dynamic and personalized service as an agent facilitating the collection of professional commercial solutions, both national and international, which gives us a greater degree of possibility of acquiring skills and improving the performance of our clients' companies.
Vila Nova de Gaia
Vila Nova de Gaia is a territory of business excellence that every day promotes the emergence of a modern and innovative.
Specialized Services
We apply new ways of thinking and ideas to create simpler, more valuable and reliable experiences with technology and full utilization of services.
Partners and Support
OnBiz gives you the possibility to contract several services in one place, allowing you to be more efficient in the management of your company.
Differentiation
OnBiz can distinguish itself from the more expensive traditional services, surpassing the need for spaces and additional costs.
You can also talk to us right away through social networks.